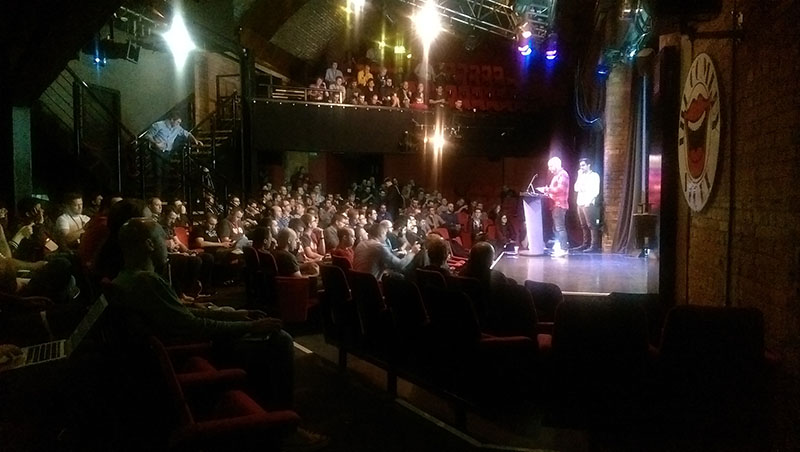 This weekend just gone, I found myself breaking my no conference rule as I visited Manchester for the MageTitans Magento conference. You could argue that because my employer was behind the event, I should really go but I actually did want to get involved as Magento is becoming a very important part of my life right now.
It's always nice going back to Manchester. I've worked there, met friends there and had some great times. It's nice to see events there such as this and UpFront. Most conferences happen in Brighton these days but having something up North is great. The venue for the event was the Comedy Store. A cracking place. Cosy and comfortable and just about the right size for a good get together.
It was actually quite nice going to a conference where I knew little about a subject. I knew a couple of the speakers due to links with the agency and I was sat with work mates but I was able to sit back and listen under no real pressure as I had no real expectations to begin with.
So down to the talks.
Well I wasn't surprised, some were really technical and very backend led which left me wondering what the hell I was doing with my life at times. So many big words.
All I will say is Vinai Kopp blew my mind with his talk. He's a clever chap but doesn't use enough cats in his presentations. He'll learn.
There was a cracking lightening talk by a chap called Yousef Cisco which was right up my street about Magento and front-end development. I found myself nodding in agreement to pretty much all of if and it's pushed me into thinking maybe I could do something similar. It's certainly given me ideas on how to push front-end dev and Magento which incase you didn't know is a massive clusterfuck at times.
Another talk that stood out was from Space48's Tony Brown (my boss). Again it wasn't too technical and was aimed at people like me who don't have such a grasp of Magento just yet. He talked about debugging and the tools to do so. Very handy for someone like me who doesn't know their arse from their elbow with Magento at times.
The best talk for me (sorry Tony) was David Manners. His talk was more an emotional talk rather than techie. I prefer these kind of talks as they have a journey, sometimes a journey you can relate to. It also led nicely to lunch.
Ben Marks from Magento spoke about Magento 2. Everyone is pretty excited about Magento 2 so it was good to hear some more about it. This guy seems to do serious miles around the globe. I think he's in China today or something.
I also enjoyed a talk by Kimberley Thomas about workflow. I made the mistake of not sitting where I could see the slides so hopefully I'll get a copy as it seemed up my street. I love a good workflow discussion.
In conclusion
To be fair, what I thought would be technical conference overload had a great mix of stuff for non techies. Hats off to all speakers really. There was probably the right balance overall.
The main thing I take away from Saturday apart from two portable USB charger things and a drinks bottle (thanks DotMailer) is that the Magento community is pretty close knit. It feels inclusive and has a varied mixtures of nationalities who all mixed well.
The event was a great success. I haven't really done the event justice in this write up. Roll on MageTitans 2016
Extra reading:
http://www.magetitans.co.uk/
https://twitter.com/search?f=tweets&vertical=default&q=%23MageTitans&src=tyah